Education & Child Care
Education & Child Care are Key Priorities for NAFA.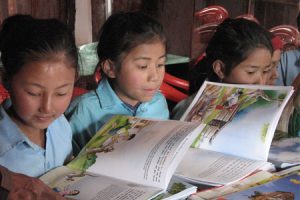 NAFA supports both ongoing programs and one-off education and early childhood and child care projects.
Our focus is on economically disadvantaged families and communities in the following remote villages and towns in Nepal:
Dhading district, north-west of Kathmandu;
Solu Khumbu, Dolakha and Okhaldhunga in eastern Nepal; and
Sindhulpalchowk
Ongoing Educational Programs
Salary subsidy of two secondary teachers that have enabled the hub school in the remote village of Tawal to extend to Grade 10.
Child education sponsorship and Further Education and Training for children attending:
Vinayak Shiksha Niketan (VSN) English secondary school in Thimi, a pottery town in the Kathmandu Valley;
the hub school in Tawal in the Dhading district; and
Prisoners Assistance (PA) children's home in Sankhu in the Kathmandu Valley.
Ongoing Child Care Programs
Operational support to two child care centres in Pokhara and a creche in Thimi that cater for poor families, including those working in local carpet factories in Thimi and villagers who have come to Pokhara seeking day labour work.
One-off Educational Infrastructure Projects include:
Classroom construction/repair, toilets, water taps, installation of computers, libraries and other infrastructure improvements in a number of districts, including:
Dhading district, north-west of Kathmandu
Sindhulpalchowk, north-east of Kathmandu
Solu Khumbu, Dolakha and Okhaldhunga districts in eastern Nepal and
Dailekh in western Nepal.
Since 2004, NAFA has funded a child educational sponsorship program that has supported children's education in two institutions: Prisoners Assistance (PA) Nepal children's home in Sankhu; and Vinayak Shiksha Niketan (VSN) English Secondary School in Thimi.
In 2008, NAFA introduced a Further Education and Training (FEAT) program to provide post Grade 10 educational/vocational training support to sponsored students in VSN school and PA Nepal with the aim of helping them secure their first job. The FEAT program was expanded to include support for a limited number of students each year from Pasang Chowk Higher Secondary School in Tawal, Ri VDC, Dhading district.
NAFA's Child Sponsorship and FEAT programs are now capped due to ongoing sustainability issues. However, the opportunity to sponsor a student still exists. Some remaining students who need to complete their studies require new sponsors, due to the naturally occurring attrition of sponsorship. Enquiries about potential sponsorships are therefore always welcomed.
Early Childhood Education and Care
NAFA supports three child care centres in Nepal where pre-school children are provided with early learning opportunities and basic care, including food and health check-ups. One centre in Thimi targets children of low income families who originally came from rural villages and now work in two local carpet factories. Two centres in Pokhara target subsistence farming families who have had to move from remote villages to Pokhara to seek casual day labour.
Location: Kadambas, Sindhupalchok district Date:  2013 Partner: Shree Golma Devi Secondary School Beneficiaries:  325 students from Kadambas village area. Objective: To construct 2 classrooms for class 9/10 optional studies and new library Details:  The [...]
  The old dairy building used as a pre school Location: Jalkeni, Sindhulpalchok district Date: 2013 Partner:  Shree Gyan Kunja Primary School, Jalkeni Objective:  Construction of 2 classrooms for nursery to grade [...]
Location: Shree Lali Gurans Primary School, Tawal Besi Ri district, Dhading Date: 2013 Beneficiaries: 35 students from nursery to class 3 Objective: To repair the roof, walls and install a new cement floor for [...]