Health
NAFA has a strong track record in supporting health-related projects in Nepal.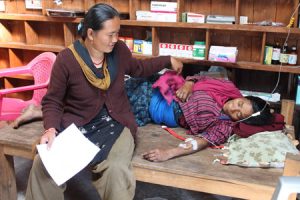 Our first funded project in 1991 was the funding of a remote cataract surgery eye clinics conducted by the Tilganga eye hospital in Kathmandu. NAFA has funded these clinics annually ever since.
NAFA also supports primary ear clinics through annual financial assistance to Himalayan Health and Hearing and the Nepalese Association of Hard of Hearing, based in Kirtipur near Kathmandu.
NAFA co-funded the construction of a remote health clinic with Ausaid in Tawal, which services 5 villages in the area. It supports the salaries of the three health workers there, including two with midwife training. One of the workers, Sunita Tamang, is the most qualified midwife in that local government area comprising more than 25 villages.
NAFA also funds regular health clinics targeting low income families who work in a carpet factory in Thimi.
Disability
NAFA has been proud to support, sometimes in partnership with Joy Foundation Nepal, a number of projects targeting people with a disability.
Dr Smita with grade 10 students dental hygiene talk Five female Nepali dentists from Kathmandu-based Kantipur Dental College Teaching Hospital and Research Centre, led by Dr Smita Dhakal, Dental Surgeon, conducted the first [...]