Make a Donation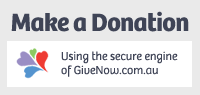 NAFA is committed to helping people in rural disadvantaged communities improve their lives.
To make a donation to NAFA to help the disadvantaged people of Nepal click on the Give Now button
Any queries please contact Rod Setterlund or Gabe Romaguera
NAFA guarantees that 100% of Overseas Aid donations goes directly to Nepal.
The GiveNow button accepts donations from other countries
Donate by Bank Transfer
For those of you who would prefer to donate money directly into our bank account please complete the form to the right, then use our banking details to make your deposit. A tax receipt will be emailed to you, detailing your donation and your preference for a particular project, along with the date and amount of the donation.
Banking details for direct deposit or bank transfer:
Bank of Queensland
BSB Number: 124030
Account Name: Nepal Australia Overseas Aid account
Account Number: 20108427
Reference: please use your name
Thank you for your kind donation to help disadvantaged people in Nepal.
Details of Bank Transfer Donation to NAFA
Please use this form to let us know the details of your direct deposit, so we can send you your tax receipt. Thank you
Sponsor a Child's Education
Sponsorship opportunities are available to help students with primary and secondary schooling and/or further education and training.
Please contact our Sponsorship Officer Joanne Bicknell via our Contact Page
Make a Bequest
Many Australians are seeking to leave a lasting legacy through bequests or charitable trusts. If you remember NAFA (Qld) in your Will you will be supporting the work of our Association in assisting to improve the physical, social, emotional and economic well being of people in Nepal.
Find out more HERE or contact our President Mr Rod Setterlund via our Contact Page