Remote Village Infrastructure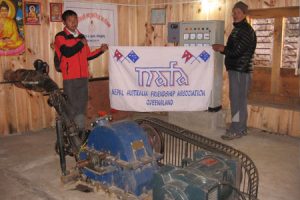 In addition to the education and health priorities, NAFA also supports other remote infrastructure in selected villages referred to in the education page. To date, these have included:
water infrastructure
micro-hydro electricity that bring electricity to homes, local schools and newly created small businesses
improved cooking stoves that use less wood and reduce smoke in homes
bio-gas
solar panels
agricultural cooperative infrastructure
oil/grinding mills
NAFA also distributes jumpers and beanies knitted by women in Brisbane and brought over by NAFA supporters visiting Nepal. These jumpers and beanies are distributed to school children in remote villages and to other institutions such as homes for children and adults with a disability.
Shree Seti Devi Primary School is situated on a hill above the village of Shivalaya and educates children from playgroup to Grade 6. School after the earthquake NAFA has been involved with [...]