Location: Shree Lali Gurans Primary School, Tawal Besi Ri district, Dhading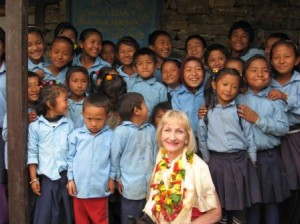 Date: 2013
Beneficiaries: 35 students from nursery to class 3
Objective: To repair the roof, walls and install a new cement floor for this three room school.
Details:  After visiting the school in 2012 it was noted that it was in need of repair to improve the school environment for the students.  The school submitted an application which was approved and funded by a NAFA member.
Outcomes:  NAFA members as well as the donor visited the school In November 2013  and  were impressed by the work completed. The dark rooms had been transformed, fresh white paint on the rendered walls and the skylights brightened and allowed more light into the rooms.  The dirt and rock floors were now covered by a cement floor which was also much better for the students.