Ross and Brenda were honoured to receive
Life Membership for 25 years dedicated service
to NAFA and the people of Nepal
in March 2014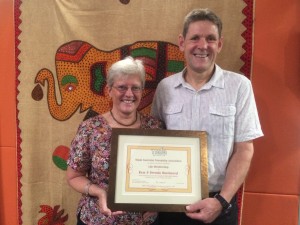 Their interest in Nepal began in March 1986 and then again in 1988 when they trekked in the Annapurnas in Nepal.  They developed a deep love of the country and the people.  So in April 1989 when they heard of NAFA's first Nepalese New Year fundraising dinner, they attended the function and soon after became members.  Eight months later they returned to Nepal to trek in the
Everest area and took with them a donation of $500 – the first funds NAFA had raised.  They met with the Australian Ambassador who advised where the money would be best spent and what would be good future projects in Nepal.
Soon after this they both joined the committee in different capacities which eventually lead to Ross taking on role of Secretary and Brenda the Vice President position.
Every 2 to 3 years they returned to Nepal to trek in the mountains and while there they followed up on the small projects NAFA was funding at that time.  In 1998 they trekked to the village of Tawal in the Ganesh Himal where they assessed NAFA's first remote project – bringing water to the village.   In 2002 Brenda spent two months teaching at Vinayak Shiksha Niketan English Secondary School, just outside Kathmandu which NAFA still supports with child sponsorships.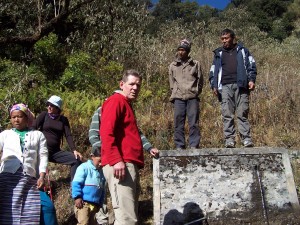 In 2004 they returned to Nepal, this time for a 5 month period where they had more time to view projects and ascertain which ones would be suitable for NAFA to fund.  Since then, Ross and Brenda have stayed in Nepal for 5 months each year.
It was at this time that NAFA obtained tax deductibility and was able to raise more money to be used on projects in other remote areas.  Ross and Brenda trekked through the isolated and unspoilt areas of lower Solu Khumbu and Okhaldunga.  This was the first time travellers had visited some of these remote communities.  Since then they have travelled through this area each year taking friends and NAFA members to view and assess the different projects and enjoy the generous hospitality of the Sherpa people.  NAFA has supported a number of projects in this area – the building of classrooms, school toilets, two micro hydro plants providing electricity for  176 homes, biogas and fuel efficient stoves.
While in Nepal Brenda teaches children craft at a children's home outside Kathmandu, sources goods for NAFA fundraising stalls in Brisbane and organises the distribution of jumpers and beanies to school children in remote schools.  Over 500 jumpers and beanies are distributed annually.
Ross spends his time compiling profiles of the children sponsored through NAFA and this information is then passed on to the sponsors so they get to know how their sponsored student is progressing.  As the Nepal Project Co-ordinator Ross also monitors current projects and travels to many other areas of Nepal such as the Tawal and surrounding villages in the Ganesh Himal, Kavre and Sindalphulchowk to investigate new applications he receives while in Kathmandu.
For the other 7 months of the year during their time in Australia, they are both busy assisting NAFA with major fundraising events and attending to NAFA work and meetings.  In line with NAFA policy, all members are volunteers and therefore all expenses both in Australia and Nepal are met by them personally. Their reward is the knowledge that through NAFA they are helping to make a difference to the lives of many people in Nepal.
 Ross and Brenda were very humbled to be recognised by their peers and to be awarded Life Membership to NAFA for 25 years service.