INTERIM EVALUATION
OF
TAILOR TRAINING PROJECT
NOVEMBER 2016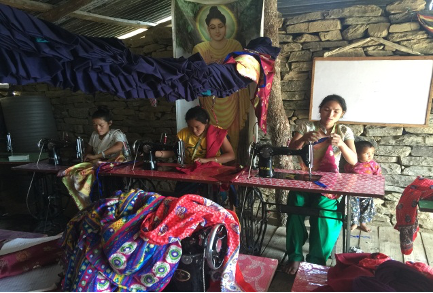 Introduction
A six-month tailor training program was conducted for twenty women from five villages in the Tawal area. Women identified the need for tailoring training at a meeting held after the Gorkha earthquake in 2015. The objective was for women who currently have no employment to earn an income through tailoring work, including establishing their own tailoring business if feasible. The project was funded by Queen's College, Brisbane.
The main findings are:
Currently the participants' main source of income is sale of agricultural products, baskets and receipt of money from family members.
Nearly all women stated that it was not difficult to learn tailoring.
Thirteen women stated that they wanted to have their own business in the future.
Twenty women expressed interest in having a small tailoring business; however, they said they did not know how to run a business and would like to training on the subject.
Read the Evaluation Report Tailor Training – Report by Minghan Deng (UQ Social Work Student) supervised by Dr Deborah Setterlund