Congratulations to Helen Zada
who has been awarded "Friends of Nepal 2013"
by the National Non-Resident Nepalese Association.
As a long  term member of the Nepal Australia Friendship Association (NAFA) Helen is one of NAFA's most valued members. She contributes to the well being of disadvantaged people in Nepal through her NAFA role and activities, in three main ways.
Since 2003, Helen has occupied the role of Sponsorship Officer with NAFA. This role involves management of two child sponsorship programs: one at Prisoner's Assistance Nepal (PA Nepal) and the other at VSN School, Thimi. Helen is currently responsible for the sponsorship arrangements of 91 students, disadvantaged by way of poverty, and a parent or parents in prison or deceased. Helen also assists with the management of NAFA's Further Education and Training Program (FEAT)  which provides post SLC study or training for young Nepali students from PA Nepal, Thimi VSN School, and Tawal School, in the remote Tamang village of Tawal in Ri VDC.
The administrative work involved in managing these programs is both exacting and time consuming. Helen contributes approximately 20 hours unpaid work per week to these projects. Outcomes to date are an indication of the program's success. All students who have reached grade 10 sat the SLC exam and all achieved a pass, and some achieved results in the top division.
Helen's attention to detail, passion for the program, and capacity to retain sponsors have contributed to this success. As a related benefit of the sponsorship program, parents of sponsored children at VSN School, many of them carpet factory workers, reported that their child's sponsorship reduced the worry about cost of living and enabled them to focus on daily survival such as producing/buying food (Evaluation Report NAFA Child Education Sponsorship Program 2012, author Dr D. Setterlund).
Helen travels regularly to Nepal at her own expense to monitor the program. She takes a personal interest in each student and is therefore able to assist NAFA's management committee with complex decision making regarding individual students' study plans.
Helen is an active and hardworking fundraiser for NAFA. She is a vital contributor to all fundraising activities such as helping on market stalls, helping at the Nepali New Year Dinner and 'Nepal in the Park' events.Helen also initiated her own fundraising strategy "Helen's Personal Challenge" from 2010 to 2012 which raised over $10,000 and has enabled two female students to study health nursing in Nepal. These students will work in their local communities and therefore contribute back to their community and society. Helen also took personal responsibility for raising money for Kharsa, a village in the remote Ganesh Himal, north-west of Kathmandu. Helen held dinners and fundraised amongst her friends to raise over $4,000 to assist Kharsa to improve the dilapidated local school and to bring water to the school.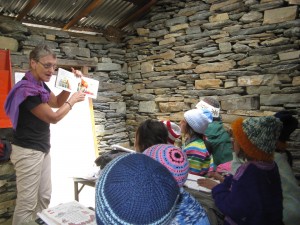 In all, Helen makes an enormous contribution to the well being of disadvantaged communities and individuals in Nepal through her role as sponsorship officer with NAFA and her fundraising activities, both with NAFA's fundraising events and personally by fundraising for specific projects.
Helen is a compassionate contributor to improving the well being of disadvantaged Nepali people.  It is a great honour for one of NAFA's members to be formally recognized for her contributions with this prestigious NRNA award.