Location: Solu Khumbu district (2 days walk from Phaplu airport)
Date: October 2009
Partner: Shree Rampur Lower Secondary School,Kanku-6, Kophu, Solu Khumbu
Beneficiaries: 80 children in school of 250
Objective: To construct 2 classrooms to bring the school to grade 8 level.
Details:The school applied to NAFA in March 2009 for funds of A$7,200 and the application was approved   In September a NAFA member raised funds for this project.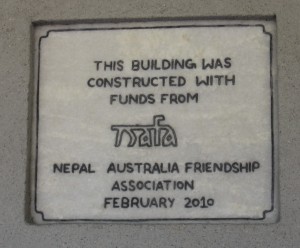 Outcomes:  In February 2010, NAFA members visited the school and noted the two classrooms were partially completed.  In a subsequent visit by members in Jan 2011 the two classrooms were satisfactorily completed and officially opened.