The knitting program began in 1998 when Ross and Brenda identified a need.  They had travelled to Nepal  5 times by then and been to many village areas and seen how poor the children were in the farming communities.  Many of these children had only one change of clothes, their parents were very poor and there often wasn't enough money to buy warm clothes.
They started with a small group of knitters and over the years this program has grown and there are now over 150 knitters.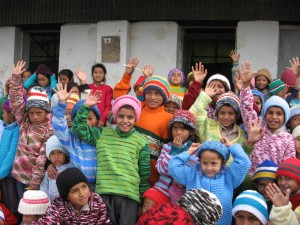 During this time NAFA has sent a total of 4150kgs = 11,500 jumpers and 14,000 beanies.  This is a huge effort.
NAFA would like to thank everyone for knitting these articles for the children, knitters have spent a lot of time and effort to make the jumpers unique and many have been works of art.  The children have been so excited to receive these lovely 'gifts' and their parents have been very grateful.  I don't think we can imagine what it must be like to have no money and then to receive something so useful and warm for your child.
For queries contact Brenda Hazelwood at  info@nafa.org.au