A mighty fundraising effort for earthquake victims in Nepal
The staff at Sunny Queen Farms have put in a mighty effort raising funds for NAFA's rice and roofing tin response to 25 remote area villages in the remote Tawal area, Ri region of Nepal. On 3rd June Gill Violett, Internal Sales Development Representative, and Kerridyn Hooker, Senior Research and Development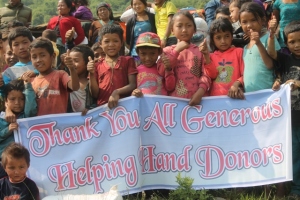 Technologist invited NAFA members Wendy and Deb to give a talk to Sunny Queen's staff at their Head Office at Carole Park. The staff came along to hear about the destruction in the Tawal area villages wrought by the Gorkha earthquake on 25th April 2015.
Gill and Kerridyn then swung into action organising an Australia wide campaign to raise money to help some of the 1,223 families left homeless by the earthquake. Then on 26th June, Gill was delighted to announce that staff at all levels, and in some cases their family members have raised an amazing $5,132.
Typical of their generosity, the staff member who won the raffle prize immediately donated the money back to NAFA. Our heartfelt thanks goes to the compassionate and generous staff at Sunny Queen Farms. The village people in the Tawal area are finding comfort in the knowledge that kind people living in a country far away care about their situation and are providing the practical help they so badly need. They remain extremely grateful.