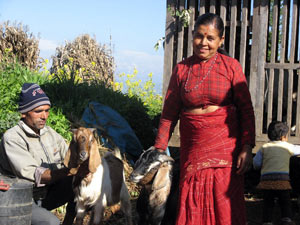 Location: Namobuddha and Tawal
Date: 2005 – 2011
Partners: VSN School Eco-Club, Namobuddha womens group and the Hilly Region Development Club
Objective: 1.To provide goats to poor families in the Namobuddha area as a poverty alleviation strategy and 2. To manage a goat project in Tawal aimed at providing sustained income to assist in meeting the ongoing maintenance costs of the NAFA-supported water infrastructure, health clinic and school projects in Tawal.
Outcomes: Approximately 10 goats are purchased with NAFA funding each year to be allocated by the Namobuddha womens group to poor families with the infrastructure and knowledge to look after goats in this rural community.
Details: The Namobuddha project is being monitored by students in an Eco-club at the VSN School in Thimi.  An agreement between the Club and the families calls for a passing of some goat kids to other poor families.
In 2007, approximately 20 goats were purchased in Tawal. The project is monitored by the Hilly Region Development Club, who have employed a goat herder to look after the goats in a profit-sharing agreement. Profits to the Club will be used to purchase materials needed to maintain  water infrastructure to the village, the health clinic and the school, all constructed with the support of NAFA.
Final Outcome: Following in-depth project evaluation and discussion, the Namobuddha Women's Group decided they could manage this project independently and thanked NAFA for their assistance in establishing and developing the program.