Location: Dhading district, ( 1 day jeep drive & 1.5 day walk from the main roadhead town of Dhading)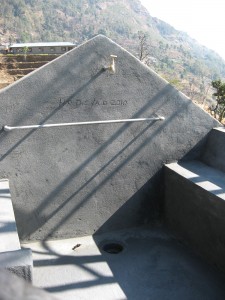 Date: August  2009
Partner: Hilly Region Development Club/ Duscheni  village committee
Beneficiaries: Appx 100 households in Duscheni village
Objective: To supply water piping and materials for tap stands to replace old and damaged water infrastructure system already in place.
Details: The village applied for funding assistance and in November 2009 a NAFA member visited the area and checked the piping all the way to the source and found many breaks in the line.  After a report was submitted, the NAFA committee approved funds which were transferred to the local HRDC.
Outcomes:  When members visited the area in January 2010 the work that the villagers had completed was checked and found to be well done. They had laid over 1 km of new pipe from the new spring and cemented in new tap stand through the village for easy access for all residents.