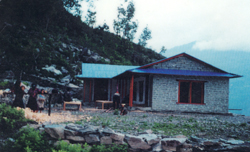 Location: Ganesh Himal area in remote hilly region of Nepal
Date: Sept 1999 – March 2001
Partners: Hilly Region Development Club and AUSAID.
Objective: To construct a health clinic to service 3,000 people in the remote hilly region of Nepal. villages of Tawal, Kutal, Salleri, Dhusini.
Outcomes: Construction, furnishing and equipping of health clinic
Details: NAFA provided $9,000 towards the construction of the health clinic, with AusAid providing an additional $6,000. The health clinic provides primary health care to Tawal and nearby villages. The closest health clinic before the clinic at Tawal was built is nearly two days walk away.