Run for a great cause and make a difference
in NAFA's 25th anniversary!
Join the Everest Mob in the Brisbane Marathon
My name is Sudipta Sinnya and I am a proud NAFA member on a quest to raise much-needed funds for NAFA's major health projects in Nepal. Having a Nepalese background, I have always wanted to give back to the beautiful country where I was born and raised in the early years of my life. Being a doctor I am drawn to making a contribution to the health care sector in Nepal. Health care especially in the rural areas of Nepal is very basic and health care workers are a scarce resource. This is why I initiated this fundraising venture in collaboration with NAFA and NAQ (Nepalese Association of Qld).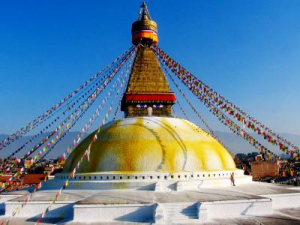 Join the Everest Mob in the Brisbane Marathon, have some fun and help make a huge difference in the lives of disadvantaged Nepalese people. The target is $25,000 in NAFA's 25th anniversary!
WHAT: The Brisbane Marathon – running events range from: 2.2 km kid's mini-marathon, 10 km run, to a 42 km marathon, to suit all fitness levels. Walking options also available!
WHEN: Sunday 3rd August 2014
WHERE: City Botanic Gardens
HOW DO I JOIN THE RUN OR MAKE A DONATION? There are two ways you can help:
1. You can join this run and promote the event to friends and family to encourage donations. Friends and family are also welcome to participate and further help promote the event. There is a registration fee for participation in the marathon. This varies according to the distance you run or walk. More information regarding fees is available on the website (http://www.brisbanemarathon.com/race-information/registration-fees/).
2. Alternatively if you are not keen to participate on the day, you can make a donation online to support the cause. You could also promote the event to friends and family to encourage donations.
If you have any questions or problems please email me (Sudipta): sudiptasinnya@gmail.com
Instructions to join the Everest Mob or register for the run
1. To join the team page go to the Brisbane Marathon website http://brisbanemarathonfestival2014.gofundraise.com.au/ You then need to create your own page by following the instructions on the page. Once your own fundraising page has been set up, you can merge this page with the team page. Team page can be found under the heading Create a Team → Search/Join Team → "Every dollar you give goes to health care in Nepal"
2. To register for the run, go to the homepage → Register for a run → Join an existing team → type the team name (Everest Mob)
NAFA health programs supported by Everest Mob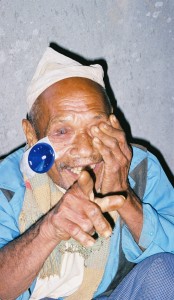 1. Tilganga Eye Hospital remote cataract eye surgery clinics
This ground breaking Nepalese run hospital provides comprehensive eye care services in Nepal and has pioneered cataract surgery in remote areas of Nepal. For nearly 25 years NAFA has been providing funds for one cataract surgery clinic in a remote area. The service is free to villagers who may walk as far as 2 days to access the service. $25 AUD restores the sight of a cataract blind person. Restored sight enables villagers to lead productive lives with their family and communities.
Target $5,000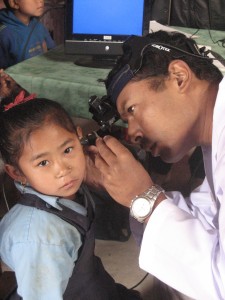 2. Primary hearing care and treatment services provided by Hearing Nepal Program and the Nepal Association of Hard of Hearing (NAHOH)
NAFA supports Hearing Nepal and the grass roots hearing service NAHOH, based in Kirtipur, near Kathmandu, by providing funds for hearing devices and office rent and equipment. Hearing Nepal started in 2009 with outreach primary ear care treatment to rural Nepal. Together with NAHOH, they now provide office based ear testing and treatment, outreach camps to a wide range of rural and remote areas (such as the Tsum Valley, hilly region, Solu Khumbu) as well as providing hearing aids and devices using 'state of the art' hearing testing equipment.
Target $5,000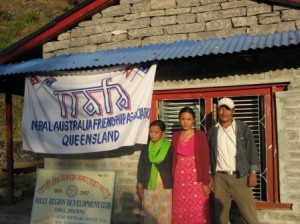 3. Salary subsidy of 3 health clinic workers (including two midwifery trained) for a remote area health clinic in the hilly region of Nepal
For over 15 years NAFA has supported a remote village health clinic that services 4,000 people and four villages. It provided funds to train the 3 health workers, including midwifery training. Since the mid-wife trained female health workers have been attending births, no baby or mother has died.
Our target is to raise $5,000 for this project.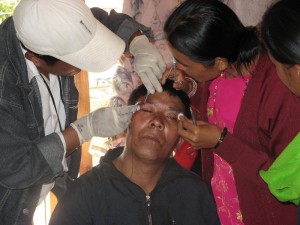 4. Sponsorship of health related further education and training students e.g. nursing, rural health, nursing assistant
Scholarships in health related further education in professions such as nursing, nursing assistants and rural health work provides opportunities of employment for NAFA supported students in the larger hospitals and rural health clinics. Currently NAFA supports 5 students in health related higher education but it needs funds to expand this worthwhile program.
Our target is to raise $10,000 for this project.