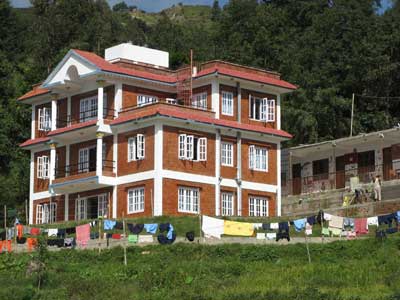 Location: Sankhu, approximately 1.5 hours from Kathmandu in the outer Kathmandu Valley.
Date: 2006 – 2008
Objective: To assist PA Nepal to build a new children's home at Sankhu.
Outcomes: NAFA contributed $17,000 towards the new home which is now completed and was officially opened in May 2008.
Details: Indira Ranamagar, the chairperson of PA Nepal (see Current Projects and Sponsorship for details of NAFA's involvement with PA Nepal) had long envisaged that the children at PA Nepal in Nayabazar, Kathmandu needed to live in a healthier rural environment, in a home that was owned by PA Nepal rather than rented. In March 2006, an international donor from the UK helped PA Nepal purchase land for a home at Sankhu, a 1.5 hrs drive from Kathmandu. From 2006-2007 NAFA executive members staying in Kathmandu and helping at PA Nepal, coordinated the development of a submission to other international NGOs and AusAid for funds to build a children's home at Sankhu.
By the end of 2006 enough funds had been raised to start construction. Plans were drawn up and submitted to the local authority by a local engineer at no cost. In 2007construction was commenced. Approximately 10 older children from Naya Bazar moved out to Sankhu and lived in the old traditional farmhouse on the property. They attended the local school and after school and on Saturdays helped bring materials up to the building site. They felt that this was their home and wanted to assist as much as possible.
As the work continued more funds were solicited and NAFA initiated a major fund raising drive to further assist.
The house is now completed and was officially opened in May 2008. NAFA executive members also assisted PA Nepal to obtain a grant from AusAid in Kathmandu for the fit-out of the home. Most of the children from Naya Bazaar are now at Sankhu. They are attending the local school and gaining some experience in vegetable growing. They are responding well to the cleaner air and more space and there has been a noticeable improvement in their health. The children will receive a good education and will be in a better position to adapt to whatever the future might hold.
What began as a dream by Indira Ranamagar in 2005 has now become a reality.
A big thanks to all donors!