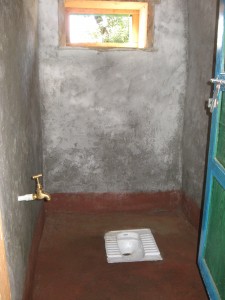 Location: Okhaldunga district, 3 days walk from Salleri village in the Lower Solu Khumbu
Date:  July 2010
Partner: Shree Patale Lower Secondary School, Patale
Beneficiaries: 200 students and teaching staff
Objective: Construct 3 school toilets (girls, boys and staff)
Details: There were no toilets at this school for over 200 children and school staff.  They were forced to use the surrounding bush which was not a hygienic situation.  The school applied for A$2,420 to construct this toilet building when NAFA members visited the school in early 2010.
Outcomes:   The application was approved at the NAFA July 2010 meeting. In January 2011 NAFA members visited the school  and viewed the completed toilet block which was well constructed.