Since April 2015, NAFA's fundraising and project priorities have been focussed on helping Nepali communities rebuild their lives and infrastructure following two devastating earthquakes. This year we are focussed on seeing those initiatives through to completion and have identified that we need to raise an additional $30,000. The NAFA Executive Committee and other committed supporters have worked tirelessly over the past two years but we are now excited and engaged for a final big fundraising effort.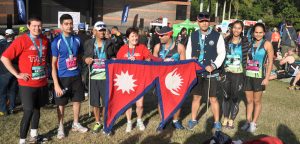 A few years ago, some NAFA members took part in the Brisbane Marathon Festival and raised $13,000. This year we intend to take part again, but we plan to raise the bar significantly and have set a target of $30,000  ….. and we need your help!
The Brisbane Marathon might sound daunting, and for the athletes, there is a full and half marathon but there are also much more manageable 10km and 5km walk/run events, and even a 1km walk for children.
Scheduled for Sunday 6th August 2017, this is an event that almost everyone can take part in.
To be successful we want as many people to join in as possible. Here's what we invite you to do:
Sign up to take part in the Brisbane Marathon Festival by choosing one of the events. The 10km is likely to be the most popular, but if you think that's too much then choose the 5km event. Leading by example, some of the NAFA committee have already signed up to the 10km !
Registration is easy via www.brisbanemarathon.com  
You'll need to pay a registration fee. It is important to remember that this covers the management of the event only and does not in itself constitute any fundraising. The sooner you commit, the cheaper it is … and the longer you have to prepare.
Then you'll need to set up a fundraising page using a web-based organisation and tie your fundraising to NAFA.  Full instructions on how to do this are available in this downloadable document. Brisbane Marathon – Registration Details
Set yourself a fundraising target and then use the power of your social network, and work colleagues to help raise funds. All donations over $2 will be tax deductable. Coming towards the end of the financial year is a great opportunity to encourage people to donate.
So, benefit from the cooler winter months, get active, fitter and healthier by bringing awareness of NAFA's great work and generate the much-needed funds we need to complete our work this year.
Queries? Contact Russ Waller nafa.secretary@gmail.com