Welcome to NAFA
NAFA was formed in 1989 after the 30 volunteers from the Nepalese pavilion at Expo 88 wanted to help underprivileged people in Nepal and form friendships with the small Nepalese community in Brisbane. Today NAFA's membership includes the original founders, people who have enjoyed visiting Nepal and many members of the Nepali community.
Since its inception, NAFA has funded nearly 164 projects in Nepal to a total value of $2,237,600 to 31 December 2018, including $864,990 to NAFA's initial and rebuilding responses to the devastating earthquakes that struck Nepal in April and May 2015.
The focus for 2019 fundraising is to support sustainable development in remote and regional Nepal through education, health and infrastructure.      Read more…
NAFA wishes to acknowledge the generous grant of $4,431 received in December 2016 from the Gambling Community Benefit Fund
30 years of making a difference in Nepal
Read about our 30 highlights in our
30th Anniversary Newsletter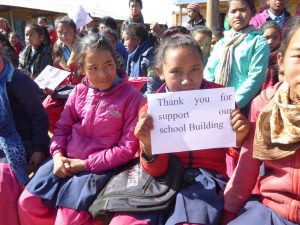 In 2017 NAFA responded to Nepal's earthquakes by providing  
* $178,500 for rebuild/repair projects in nine remote villages. Total of $772,000 since 2015.
* $63,800 allocated to education sponsorship for 87 students.
* $15,000 allocated to teachers' salaries.
* $10,000 allocated to childcare centres.
* $23,500 allocated to 6 health projects, including salaries for 3 health workers in a remote health centre, primary hearing care, a remote cataract eye clinic and a women's personal hygiene project.
 * $18,600 major philanthropic donations for a plant/tree nursery for reforestation + capital for a cooperative savings bank.