NAFA aims to improve the physical, social, emotional and economic well being of people in Nepal through small development projects and to promote friendship between the people of Australia and Nepal.
Our theme for 2014 is: Achieving positive outcomes for disadvantaged communities and individuals in Nepal
The focus for fundraising for 2014 is: Sustainable health, educational and development projects in Nepal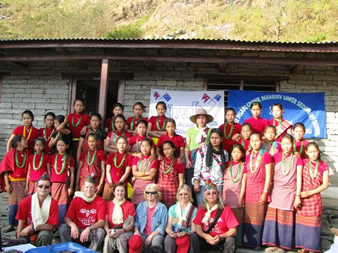 The Nepal Australia Friendship Association (NAFA) was formed in January 1989 as the Australian Nepal Friendship Association (ANFA) Queensland. The name was changed to NAFA in 1993. NAFA is a Brisbane based non-political, non-profit, volunteer organisation without religious affiliation. Our aim is to improve the well being of individuals and communities in Nepal with an emphasis on women and children. NAFA has a proven track record in supporting sustainable, grass roots community development projects in Nepal in both rural and urban areas.
NAFA is run entirely by volunteers and 100% of tax deductible donations to NAFA's Overseas Aid Fund are allocated directly to projects in Nepal. NAFA works in close collaboration with the growing Nepali community in Brisbane, who recently formed the Nepal Association Queensland (NAQ) to provide social support and activities to the local Nepalese community (including Nepali students studying in Queensland) and to assist NAFA with its fundraising activities.
NAFA holds a number of fundraising events throughout each year including a Nepali New Year Dinner and Nepal in the Park. NAFA is a vibrant organisation whose members share a love of Nepal and a desire to make a worthwhile contribution to Nepal's development. New members are warmly welcomed.
NAFA holds general meetings open to all members on the first Tuesday of every month and an Annual General Meeting (AGM) in May 2014.  Check the calendar for date changes or click here.
---
CANCELLED
Due to the weather we have had to cancel this event, sorry to any inconvenience to all our supporters
Join in the fun at our Nepali cultural festival
NEPAL IN THE PARK Sunday 24 August 2014
JC Slaughter Falls picnic area, Mt Coot-tha
Fundraising walk, food & cultural entertainment
The walk starts at 9am JC Slaughter Falls picnic area, Sir Samuel Griffith Drive, Mt Coot-tha. Those not doing the walk are very welcome to come afterwards
Nepalese cultural activities start at 11am and finish at 1.00pm – Delicious Nepali food; handcraft stalls; Nepali dance and cooking lessons; children's activities; games; raffles and prizes.
Please ask your friends to sponsor your walk. Prizes will be awarded to those  who raise the most sponsorship money for doing the fundraising walk. All those who register for the fundraising walk will be in the running for random prizes.
Click here for information package, registration and sponsorship forms Nepal_in_the_Park_Package 2014
---
Learn a little more about NAFA
Read our latest newsletter 25th Anniversary Newsletter
---
You can help by
joining NAFA as a member
help with or attend our fundraising events
make one-off or ongoing donations
sponsor a child's education or vocational training, contact Helen helenzed@internode.on.net (07) 3882 0028
teacher and health care salaries, contact Rod setterlund@hotmail.com (07) 3366 1826
donate prizes for raffles
use your networks to raise funds
make a bequest in your will Read more here.
We invite business owners who wish to assist our  NAFA programmes to become involved with donating through product sales like Back Track.  We welcome all support.  Contact us today.
---